to The Russian Speaking Seventh-day Adventist Church in London

"For I know the plans I have for you", declares the Lord, "plans to prosper you and not to harm you, plans to give you hope and future"
As people of Faith and Hope, experiencing imposed travel and meeting restrictions, as well as foist social distancing, all our worship services are temporarily taking place on-line
For details and support, feel free to contact the local pastor or the local pastoral team
Come and join us for our regular worship service every Sabbath 
Zoom Meeting:  897 131 7244
https://us02web.zoom.us/j/8971317244
09:30am - 09:55am - Prayer time 
10:00 am - 11.00am - Bible Study  
11:15am - 12:30pm - Divine Service
Unfortunately, due to COVID-19, current we cannot meet face to face 
In case of urgency, feel free to contact the local Pastoral Team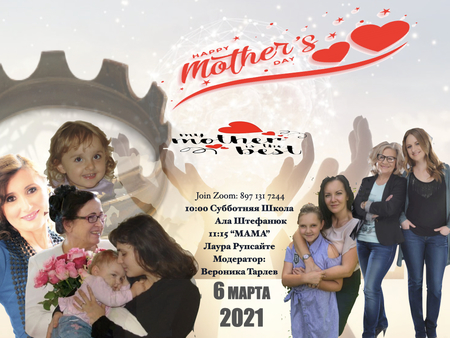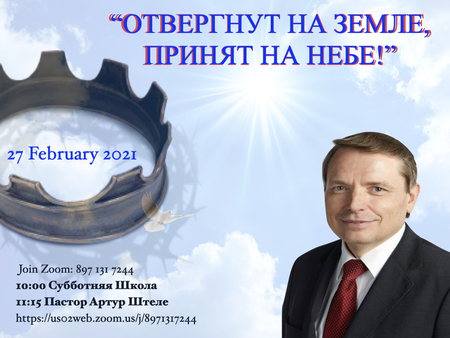 12:30pm - 01:00pm - Prayer Time
01:00pm - 01:45pm - Lunch Time
02:00pm - 03:00pm - Prayer & Bible Study   
 Our address:  Seely Hall, St Paul's Church, Chillerton Road, London, SW17 9BE, 
...memories from some imporant past events & celebration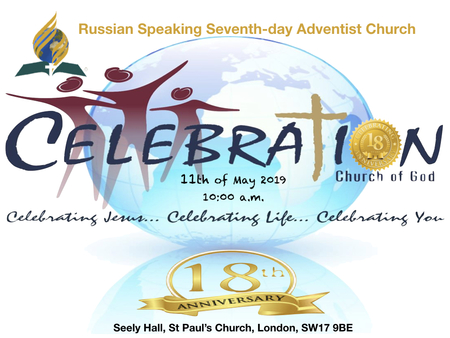 "Behold, I stand at the door and knock; if anyone hears My voice and opens the door, I will come in to him and will dine with him, and he with Me...'He who overcomes, I will grant to him to sit down with Me on My throne, as I also overcame and sat down with My Father on His throne. 'He who has an ear, let him hear what the Spirit says to the churches.'"
If you have heard God's call, and you have decided to find a place where to experience The Love of God in a multinational community, we will be glad to fellowship together with you!

Regardless of today's existing political instability and social turmoil, we value our diversity based on a multinational, vibrant, young and very friendly Christian community. Together we are aiming to embrace and support "one-another' and to reflect God's Love through our Daily Life by sharing The Everlasting Gospel of Salvation to All The Nations and to Every Human Being...
Every Friday Evening: 19:00 The ADVENT CENTRE, Room N:1, 37-39 Brendon Street, Off Edgware Road, Marble Arch, London, W1H 5HD

If you don't have a Bible and you need one, feel free to contact us and we will do all we can to assist you in getting one of the most valuable books in your life: The Bible is The Living Word from God - His Special Message to you!

Beside our Regular Sabbath Worship Service, we are encouraging you to join us and be part of The Small Group Bible Study and Prayer Meetings in your post-cod nearer to you. Once a week, in the comfort of our own home, we get together to enjoy our friendship and sharing our support to each other, Praying and continue our personal Spiritual Enrichment. Such small home style groups are well-established and functioning throughout London, so we kindly invite you to come and enjoy such a wanderful experience of friendship.  Oh - Yes!  In case you are outside London, wherether you are,  just feel free to contact us and let us join together wherether you are and let us comence a Simple Home Group Settings near you, or if it would be possible, and if your circumstances allow you, we will be glad to comence such a small freindly Christian group in your home! - Let us Join hands together - For a Better and Brighter Future till Jesus Comes. Working together Supporting Each Other for The Glory of God, "A diverce Christian Community with a Global Impact!"
Glory be to God for the four our newly baptised members into God's Kingdome!
On the 26 of September 2015 at Saxon Lake, Uxbridge, we had the priveledge to baptise two young sister and two young brothers following Jesus Christ Great Comission!


On the 2nd of May 2015 - we have celebrated A Milestone - 14 wonderful years of our worshiping together in London!
Pastor Patrick Boyle has presented an astonishing and encouraging message from The Word of God: When Jesus comes - there will only one result: "IN" or "OUT! At that stage - there will be no longer time... Today is The right TIME to make The Right Decision!
The message is clear:

The Bible it is NOT written as an INFORMATION book - rather  it is an INSPIRED Word of God. A Guide for TRANSFORMATION!
Wherever you are - this Holy Word will open your spiritual eyes and bring you closer to Jesus Christ, leading you to The Glorious Salvation through Faith giving you Hope for The Future of Eternal Life!" As you open The Bible with prayer - its Author is always there... You are  NO Longer alone!   


With Christian Love, The Russian Speaking Seventh Day Adventist Church, London, UK.
 
Find us on Facebook! 
 
If need spiritual support or assistance, feel free to contact Pastor - Andrei M Balan
Mobile: 00 44 (0) 7796134843
Email: abalan@secadventist.org.uk